Activiteit
Winter Foraging & Nature connection course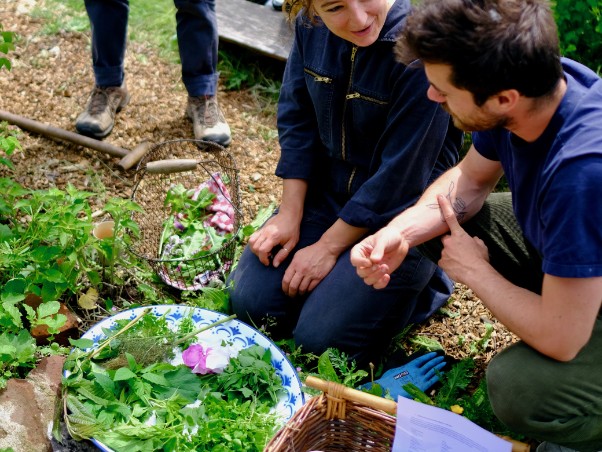 Would you like to learn more about Foraging & Herbal Medicine? And dive deeper into nature connection right here in the city?
(Amsterdam)
Would you like to learn to identify and feel comfortable picking your own wild food & medicine?
In this 3 months Foraging & Nature Connection course I'll take you on 6 expeditions of 2 hours, where we gather in a group of max 10 people and explore the local ecology, learn how to forage ethically, identify edible, medicinal and poisonous plants. An important part of foraging is nature connection, mostly through sense perception. In this course we will start every gathering with an observation exercise inspired by spiritual ecology or permaculture principles. I will offer a diverse set of practices and knowledge on plants that you can easily incorporate into your diet, medicine cabinet or daily activities. This course takes place in Westerpark - Amsterdam and one or two sessions will take place in a forest close to the city.
(Please note that it is winter, so many plants are dormant. This means we will sometimes dig up roots or only find traces of plants).
The basis of Nature connection is: slowing down - becoming silent - opening the senses towards the ecology of beings surrounding us - share our findings and subtle shifts in awareness.
dates:
Sunday 26 feb 2023
Sunday 5 mrt 2023
Sunday 26 mrt 2023
Sunday 2 apr 2023
Sunday16 apr 2023
Sunday 23 apr 2023
We will gather at the bee-palace opposite the Kinderboerderij in Westerpark
Starting point Overbrakerpad 10, 1014 AZ Amsterdam, Amsterdam
How to get there From restaurant Rainarai (on the corner of Haarlemmerweg & westerpark) you walk to the Farm westerpark (Overbrakerpad 10) opposite you will see the Bee Palace, we will meet there.
Times: We will start at 14:30 and finish at 16:30 or max 17:00 o'clock
What are the cost: €222,- for 6 gatherings of 2 hours per gathering
omschrijving doelgroep
iedereen die goed te voet is.

Maximum aantal deelnemers: 10

Aantal aangemelde deelnemers: 3

Deze mensen komen:
- Rosa Gunneman
- Tjalle Galama
- Maaike Soetermans

Meld je aan