Activiteit
Year course 'Grow your own urban edible garden'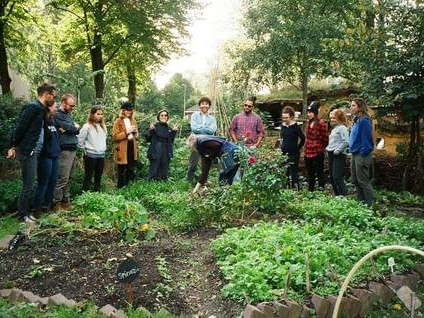 This online course with nine live group sessions covers the basic principles of urban permaculture and sustainable organic farming. It is designed to offer you the basic techniques and concepts so that you can plan and start your own garden, whether on a balcony, roof terrace, garden, patio, or even indoors on  window sills!
If weather permits the instruction  will be outside in the garden.
You will learn about: aromatic herbs, vegetables, edible flowers; how to work with a crop plan for the four seasons; how to plant seeds and seedlings; different composting systems and general health of the land; seed collection and food preservation; and how to create balance and biodiversity in the garden.
This course is designed for northern hemisphere temperate zones, but depending on the location of the participants, more specific details can be provided for each case.
PRACTICAL SESSIONS IN AMSTERDAM
For those of you living in or near Amsterdam and wishing to supplement the online course with some "live" work at two of  our farming locations,  we are offering 4 practical workshops spread throughout the season. The themes of each workshop will build on the theoretical  information provided by the online course: you will learn how to prepare a garden bed and practise sowing & transplanting; you will learn how to use various tools properly  in order to avoid injury; you'll learn to set up a compost pile as well as a worm hotel; you'll take part in a hunt for specimens of various plant families; and together we will make some products to keep you healthy through the winter months.
Note: a minimum of 4 participants are needed in order for the practical sessions to take place.
All dates and times and location information for the optional practical sessions will be provided by email. onlineworkshops@cityplot.org 
FURTHER INFO URBAN GARDENING AND PERMACULTURE ONLINE COURSE 
Duration: MARCH-OCTOBER (9 sessions of 2.5 hours each, with a 2 month summer break)
Starting: Saturday, March 25th 2023
Ending: Saturday, October 7th 2023
Register by emailing: onlineworkshops@cityplot.org
FEE:
€ 400 FULL YEAR COURSE: 9 SESSIONS ( MARCH TO OCTOBER )
€ 300 ONLY 6 FIRST SESSIONS ( MARCH TO JUNE )
€ 200 Optional Practical Sessions in Amsterdam with Ann Doherty
THE FULL YEAR COURSE INCLUDES:
22 hours of interactive group class live via Google Meet  (9 sessions)
Educational material (lists, manuals and web links) with all the necessary information for getting started with your garden.
Your instructor will be at your disposal by email for follow-up and consultations during the course.