Activiteit
The Climate-Friendly Kitchen Garden Course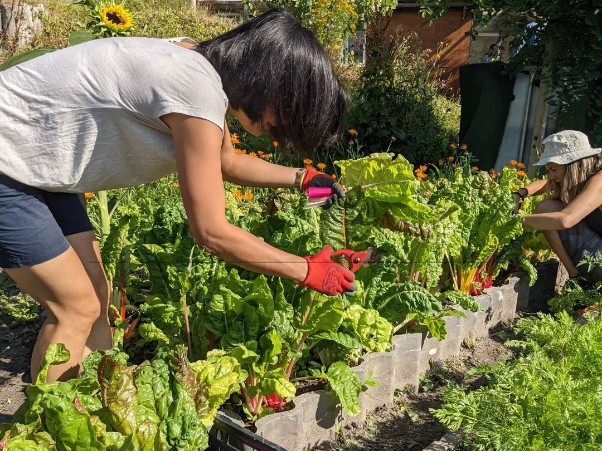 The Climate-Friendly Kitchen Garden Course offers practical, hands-on skills in urban gardening, cooking, composting, and basic building skills. This 8-month course will guide participants through the seasons, teaching them how to start their own garden, cook with seasonal ingredients, reduce waste and energy consumption, and build a supportive community.
​The course is designed for city dwellers seeking to implement positive changes in their lifestyles. It provides practical skills in sustainable food practices, exploring the impact of food production and ways to reduce it, with a focus on taking concrete action in even the smallest of spaces of city life.
What will be covered in the course?
Urban gardening: How to start and maintain a small-scale garden, even in limited spaces like balconies or garden; planning a garden; how to choose the right plants for your space; companion planting and crop families; starting plants from seeds: Everything that you need to know to start and maintain your own garden! 
Climate-friendly cooking: Plant-based cooking, and with seasonal, locally-sourced ingredients; reducing food waste; exploring the world of beans and new vegetable varieties; discovering the joy of food 
Sustainable food production: Understanding the impact of food production on the climate, and ways to reduce it; how to garden using climate-friendly methods
Sustainable lifestyle: Tips and tricks for reducing consumption, including resources (like energy and water), as well as for reducing waste
Composting: How to compost at home and learn different composting methods that can be done in an urban environment
Basic upcycling skills: How to mend clothing, and make basic DIY building projects using shared tools
Building a learning community: Sharing skills, resources and experiences to support fellow course participants and De Kaskantine community in making positive changes; learn how to apply all of the above skills also on a community level in the future, if you so desire
Language: English
Course Size: Limited to 10 Participants
Dates & Times: March 25, April 1, May 6, June 3, July 1, August 5, September 2, October 7 from 09:00-14:00
March 25th: Introduction Meeting - Make Your Own Personal Sustainability Plan 
At the final course meeting, we'll make pizza, and participants can invite family & friends to celebrate what they have learned. 
Costs: 480 Euros